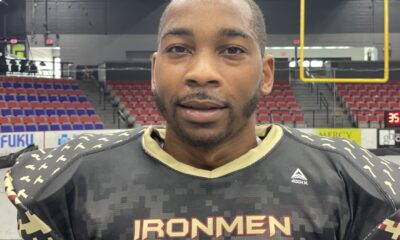 MUSKEGON – Ryheem Stokes knows what to do with the football in his hands.
When the West Michigan Ironmen defensive back intercepted a pass during Sunday afternoon's 62-0 rout of the Kentuckiana Kurse at Trinity Health Arena, he was able to find his way to the end zone for a 37-yard pick-6.
It was nothing new to the 6-foot, 185-pounder, who in 2012 was selected MLive's West Michigan Dream Team Player of the Year as a defensive back for Grand Rapids Catholic Central. That season, Stokes intercepted four passes and returned two of them for scores, one covering 102 yards against Holland Christian.
"I heard my other DB on the sideline telling me to watch out. They saw the QB and receiver kind of talk, communicate, and he was just telling me they were going to try me," Stokes said about Sunday's pick-6. "I was mentally prepared for it. I wanted the opportunity. It was fun."
With the runaway win, the Ironmen improve to 3-1 on the season.
The Ironmen's next scheduled game is Saturday night, June 4, at Trinity Health Arena. Head coach/general manager Nate Smith said that the Carolina Predators are a potential opponent for that date.
Sunday was the Ironmen's first game in three weeks, but the team did not seem to show any ill-effects against the overmatched Kurse. It was "Youth Sports Day" at the arena, as any youngster wearing a sports jersey was admitted for free to the game.
"The crowd seemed like they were into it. A lot of kids here, and so it was just a different dynamic," Smith said. "The players really enjoyed that. The interaction was great with a lot of the youth sports that were here, so that part was really good.
"It was nice to get out here and play."
The Ironmen scored on the first play from scrimmage, cashing in on Rudy Colston's 10-yard run.
Alex Carder tossed six touchdown passes, four of them to Sterling Alexander. The Ironmen had a pair of second-half pick-6s, the first by Stokes and second by Ryan Williams for 23 yards.
The defense notched its first shutout of the season. Joshua Holley led the way with seven tackles, followed by Derek VandenBosch and Clay Oliver with five stops apiece. Stokes made three tackles.
"We kind of knew it was going to be a little bit easier game, but it was pretty good to have a shutout," said Stokes, who played for the Ironmen prior to the pandemic and returned to the squad this season.
Stokes is a former Grand Rapids Creston student, who spent three years at Grand Rapids Catholic Central. He was an Associated Press first-team all-state selection at defensive back for a Cougars team that pitched five shutouts during nine regular-season games in 2012. That season, he led GRCC to a 10-1 record and the OK Gold Conference title.
That season, Stokes ran for 680 yards and nine TDs and he caught 24 passes for 480 yards and six scores.
Stokes took his talents to Ferris State University, then he made a stop at Davenport University. Now 27 years old, he intends on going back to school in the fall so he can complete a degree in sports marketing.
Stokes is an assistant coach for Grand Rapids Catholic Central's basketball team, which advanced to the Division 2 state finals in the winter.
"If I wasn't at Catholic (as a student), I wouldn't be who I am today," he said. "I probably wouldn't love football as much as I love football. I wouldn't have the opportunities I have now, just in life, not just for football."
Watch a replay of CatchMark SportsNet's livestream of Sunday's game here: